Virtual Serial Port Emulator is a software solution that employs virtualization to perform serial port emulation. The tool enables the creation of pairs of virtual serial ports that can be connected to form a virtual null-modem cable. Using the COM port emulator, programs on either end of the virtual cable have immediate access to data generated from the connected application.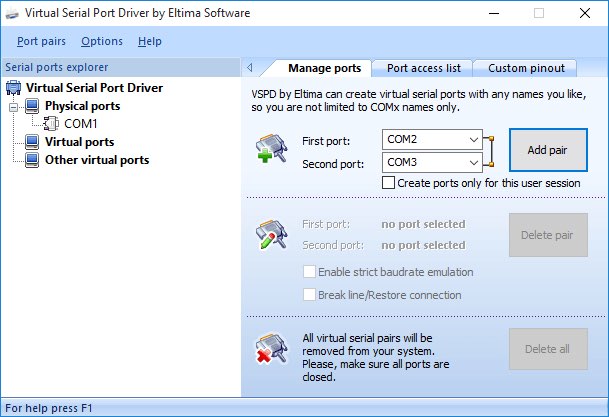 Windows and the applications running on the OS recognize the virtual ports as if they were physical interfaces. The software emulates a serial port and all of its settings such as HandFlow control, baud rate, and signal lines. When you emulate an RS232 port, Device Manager displays it with your other interfaces. Virtual port pairs are available before users login when the system is restarted.
Virtual Serial Port Driver can be licensed for use in your software products that require COM port emulation. This adds flexibility to your application by enabling virtual serial ports to be created and configured from within the program.
Why Virtual Serial Port Emulator?
No physical serial ports are required by the virtual serial port emulator. It can be used on systems that have no physical interfaces.
Virtual serial ports fully emulate physical interfaces, making them compatible with your serial applications.
You can create an unlimited number of virtual serial ports pairs.
Faster data transfer is possible with virtual ports than that which can be achieved with a physical cable. Your processor speed is the limiting factor and on average, the speed is around 5.5 Mbytes/sec.
Name the virtual serial ports in any way you like, including using the names of physical system ports.
After rebooting, you can assign a printer to a virtual serial port.
Port are re-created when the system reboots before users login to the system.
OEM License owners can control virtual serial ports directly from their applications via the VSPD Dynamic Link Library.
Why Virtual Serial Port Emulator?
Strict baud rate emulation.
Access to virtual ports can be restricted for security purposes.
Standard, loopback and custom null-modem schemes are available.
DTR/DSR/CTS/RTS/DCD/RI signal lines are available.
Virtual ports created by VSPD can have their names changed in Device Manager.
Full support of HandFlow control (Hardware and Xon/Xoff)
VSPD can be installed and virtual ports created and configured without a system reboot.
Emulate connection breaks on virtual lines.
Obtain complete information regarding the states of virtual serial ports, data transfer, and other connection details.
The application provides Windows kernel driver technology support (WDM, WMI, Power Management, PnP, etc.).
The application and all its internal drivers are digitally signed for your protection.
Supported platforms:
Windows 2000
Windows XP
Windows 2003
Windows Vista
Windows Server 2008
Windows 7
Windows 8
Windows 10
All Windows 64-bit platforms