What is half-duplex system?
A half-duplex system is comprised of one or more transmitters and receivers where only one transmitter can be active at a time. Communication is enacted by a transmitter making a request directed at a specific receiver. The transmitter then waits a pre-determined length of time for a reply or decides that no reply will be forthcoming from the receiver.
An RS485 network is built based on a master/slave framework. The master performs the role of the transmitter, making requests to a designated slave which acts as the receiver. The master listens for the response and if not obtained in an appropriate time-frame will terminate the communication.
What is Modbus?
Modbus Messages
The principle of Modbus messages. In a Modbus RS485 Network, communication begins when the master device sends a query to a connected slave. A slave device spends its time monitoring the network for queries specifically addressed to it. When a query is received, it will either perform an action or reply with a response to the master. Queries are only initiated by the master device.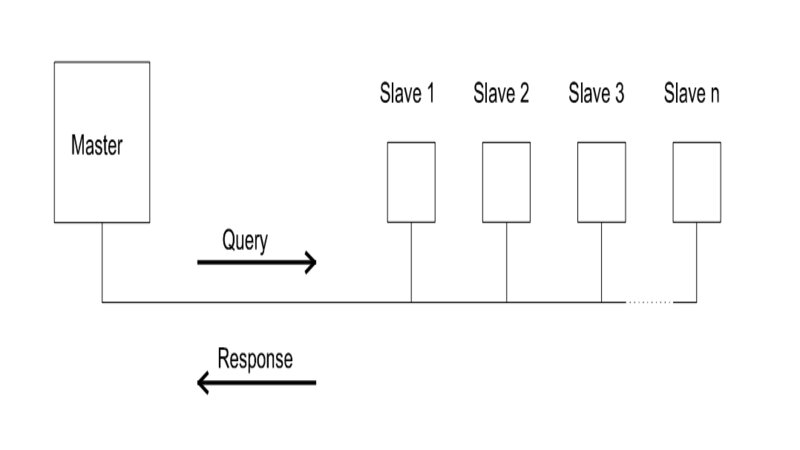 The Modbus protocol affords the master the choice of addressing messages to specific slave devices or communicating with all slaves simultaneously. This is done using a special "Broadcast" address. Some products such as those from Integra and SPR do not support the use of this broadcast address.
Read and write operations are sent through Modbus messages using coils. A coil consists of 16-bit words and binary registers. A slave can only respond to a received message and never initiates communication with the master.
Each slave device attached to the RS485 bus in parallel is assigned a unique Modbus slave ID. All Modbus communication begins with the slave ID being sent, either to alert a slave device to accept a query or inform the master which device supplied the reply.
In the same way that RS232 connectivity works, slave and master devices need to be configured correctly. Parameters such as speed and parity need to be synchronized throughout the network.
Modbus Message Format
The message format is used in Modbus communication between master and slave is defined in the protocol.
A Modbus query is made up of the device (or broadcast) address, a function code that defines any requested action, data returned with the request, and an error-checking field.
A Modbus response is comprised of fields that verify the requested action has been taken, data sent with the response, and an error-checking field. The slave device will create an error message as its response if it is unable to fulfill the request or if errors impacted the receipt of the message.