2. Convert USB to COM port:
If your system has a free USB port, you can use it to convert between USB and serial signals.
The USB to serial adapter is a small piece of equipment that has a USB connector at one end and at least one, and perhaps multiple, serial connectors on the other end.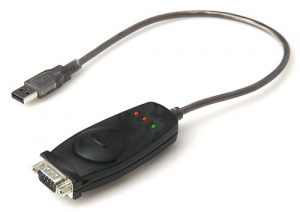 Belkin USB to COM port converter
There are 3 simple steps to launch USB to serial adapter:
Download and install the driver for your particular converter.
Plug the converter into the computer's USB port.
Attach a serial device to the converter.
Now you can interact with the serial device despite not having a physical COM port on your computer. This method requires that your computer has a free USB port.
3. Convert Ethernet to COM:
You can obtain an Ethernet to COM converter, also called a device server, that enables you to convert serial signals. The signals are sent over the network and your computer interacts with the devices through a virtual COM port.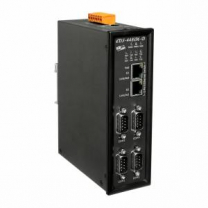 Ethernet to Serial device server with 4 RS-232/422/485
How to convert Ethernet port to COM port?
Using an Ethernet to COM converter entails these steps:
Attach the serial device to the device server.
Connect the device server to the Ethernet.
Use your computer to communicate with the serial device through the Ethernet.
4. Adding COM ports over WiFi
Taking advantage of your computer's WiFi capabilities is another way to add a COM port to your system. The concept is similar to the Ethernet converter except it uses your wireless network. Serial WiFi adapter allows connecting a COM port (RS232) device to secure or open wireless network or access point.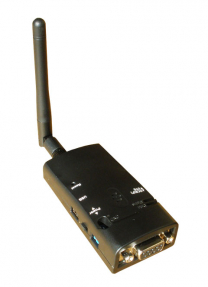 Serial WiFi Adapter - RS232
Implementation involves:
Connecting a serial device to the wireless device server;
Broadcasting the signal on the WiFi network;
Accessing the serial device on the WiFi network using your computer.
5. Conversion or branching of RS-232, RS-422, RS-485 interfaces
Perhaps you have an open COM port on your computer but need multiple interfaces for a specific purpose. You may also have a port that does not support the communication protocol of the device you intend to use. Both of these issues can be solved with the addition of some hardware and cables.
In the case of requiring more COM ports when you have one open on your machine, a Serial Port Hub is the solution. The hub will have one connector that attaches to the free serial port on your computer and several COM ports available to be used by devices. The devices essentially share your computer's single port.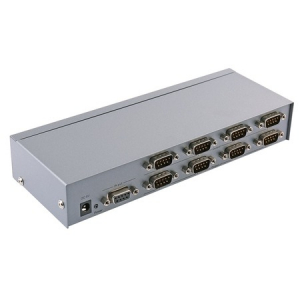 DTECH Industrial 8 Port RS232 Serial Splitter Switch
Converting between serial protocols such as RS232 to RS485 is also possible with a hardware converter. One end plugs into your machine's COM port and the other connects to the serial device.