Serial Port Troubleshooting
How to resolve serial connection problems
The RS-232 communication protocol is one of the most common ways to control professional A/V equipment. Various amplifiers, dimmers, extenders, projectors, and matrix switchers use the RS-232 standard to communicate serial signals.
If you understand the basic technology of RS-232 protocol, you will have no problem troubleshooting RS232 connection issues. It will take less time to fix a COM port error if you know what to look for.
In this article, we'll tell you about the main characteristics of the RS-232 communication and highlight the most common problems you may face while using your serial A/V equipment.
Contents
About RS-232 protocol
EIA/TIA-232 (or RS-232) is an asynchronous serial communication method introduced in 1962 by the Electronic Industries Association (EIA). The standard is more popularly referred to as "RS-232" where "RS" stands for "recommended standard". The word serial means that the information is sent one bit at a time. "Asynchronous" indicates that the data is not sent in predefined time slots.
RS-232 Pinouts
Below you'll see the typical pinouts of RS232 connectors. The original pinout for RS232 was developed for 25 pins connector. However, since the introduction of the smaller serial port on the IBM-AT, 9 pins RS232 connector has become more widely used.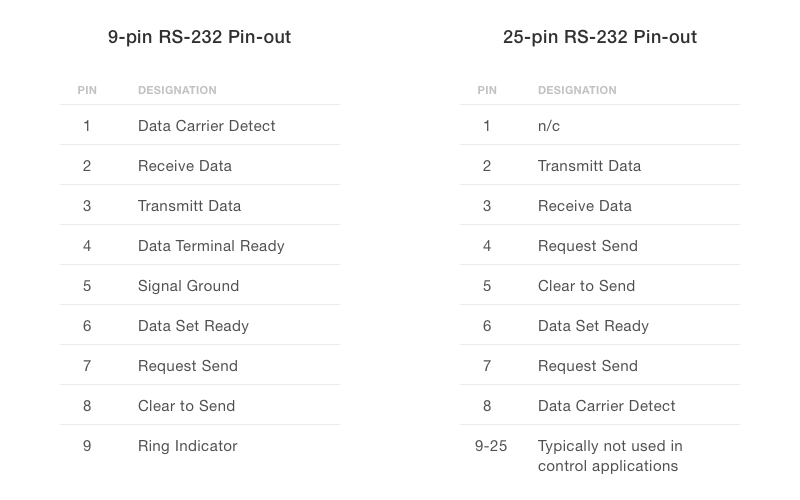 As for 25-pin connector, not all of its pins are used for sending and receiving serial data. Some of them serve for port loopback testing. A/V equipment usually comes with a 9-pin connector. At the same time, the pinouts on your controlling system or computer can differ from those used on the A/V devices. For instance, it may happen that the pins 2 and 3 are reversed which allows the connection to be made with pin-to-pin wiring between a 9-pin connector and a 9-pin cable. Another type of connector, terminal block, is becoming more end more popular as it enables simple installation without soldering.
Voltages
A standard voltage for all RS-232 signal pins ranges from -15V to +15V. The voltage swings, occurring while transporting data, can total 30V. Besides, RS-232 ports can work with voltages as low as -5V to +5V. The wide range of voltages used by the RS-232 port makes possible the compatibility with different types of A/V equipment.
What you should remember is that large voltage fluctuations in RS-232 signal lines can cause substantial electrical noise, so it's not recommended that you run RS232 signals near a high-impedance microphone or audio lines. In case you can't avoid running these signals close to each other, you need to make sure that all of your audio wires are properly shielded.
Baud Rate
The rate at which information is transferred over the RS-232 communication channel is known as baud rate. The higher the baud rate, the more bits per second that are transferred. Standard baud rates include 110, 300, 600, 1200, 2400, 4800, 9600, 14400, 19200, 38400, 57600, 115200, 128000 and 256000. Typically, baud rates fall into the range of 1200 to 19200.
RS232 cable lengths
With the increase of the baud rate, the length of your RS232 cable linking A/V equipment to the controlling system decreases. For example, a standard 100-foot cable is generally used when baud rate is from 1200 to 2400. If you are transmitting at 9600, your cable should be a maximum length of 50 feet, etc.
Learn more about RS232 serial cable and what is the difference between a null modem and straight through serial cable
Troubleshooting serial port communication
There are two most common serial port problems: software incompatibilities that result in a non-working serial port and faulty wiring that causes connection issues.
Software problems and the optimal solution
If your hardware connection is correct, but the serial communication still cannot be established, the problem may lie in improper software settings.
In order for communication to be efficient, the connection settings for both the controlling system and the connected device must be identical. Such parameters as Baud rate, Data Bits, Parity, and Stop Bits must match on both systems. That means if your computer's COM port is set to operate at 2400 baud, you need to have your device set to 2400 baud as well. Also, you should properly configure the number of Data Bits - bits transmitted in a single character. This parameter can be set to either 7 or 8.
Parity indicates whether the number of 1s in a single transmission is odd or even. If this is not important for your program, you can set this parameter to None. The end of the transmission session is defined by the Stop Bit which can be set to 0, 1, or 2. The typical configuration for A/V equipment is: Data Bits - 8, Parity - None, Stop Bit - 1.
When troubleshooting COM port issues, make sure that all the aforementioned settings are identical on both ends of your serial connection.
If you want to reduce the time spent on serial port communication troubleshooting, you may try Serial Port Analyzer, a professional app designed for sniffing and recording COM port activity.