Checking serial port: step-by-step instructions
In our demonstration, we will use Eltima Software's Serial Port Tester as the program with which to test serial ports. We will show how to check an RS232 port is working in three different ways.
First case: monitoring the activity of serial ports
To monitor your serial port activity, use these simple steps:
1. Download and install Serial Port Tester. Launch the app and open a new monitoring session by following the next step.
2. From the main menu select "Session > New session". Alternate methods to start a new session are using the 'Ctrl + N' keyboard shortcut or clicking "New" on the toolbar.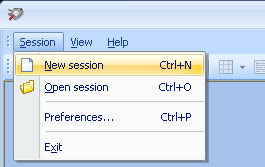 3. The "New monitoring session" window should now be displayed.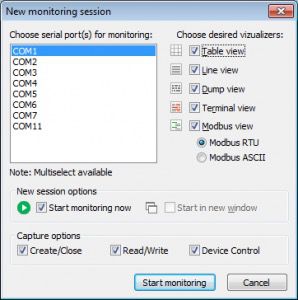 Select the viewing mode which will be used to display the monitored serial data:
Line: displays lines of plain text containing IRP details;
Terminal: presents the transmitted data as ASCII characters;
Table: recorded IRPs are displayed in the form of a table.
Dump: two-way serial communication is shown in hexadecimal and string formats;
Modbus view displays all transmitted Modbus data (RTU and ASCII).
"Select all" or "Select none" can also be chosen as viewing options.
4. Select "Start monitoring now" if you want to immediately start monitoring the ports. You can choose the "New window" option to start the session in a clean window.
5. Use the "Capture options" menu to select the events to be monitored. Your choices are device control, create/close or read/write.
6. Click the "Start monitoring" button to begin the session.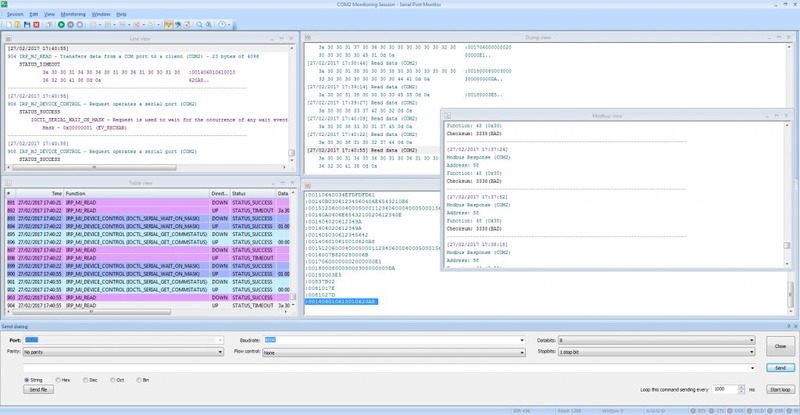 7. Save the session for late analysis by selecting "Session > Save session/Save session As" from the main menu.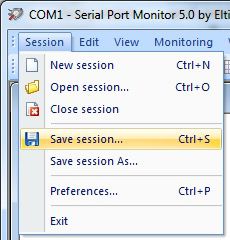 Second case: Compare monitoring sessions
Many valuable insights about your serial communication can be gained by a comparison of two saved sessions. Saving a monitoring session prior to making any changes and then saving a subsequent session provides the data with which to make your comparison. Differences in the sessions can easily be identified.
Here's how to compare sessions:
Start or open a monitoring session.

On the main menu, click on "Session>Compare Sessions".
Select the monitoring file you will use for the comparison.

Serial Port Tester displays the sessions in a side-by-side format. This improves the readability of the data and makes it easy to locate differences in the sessions.
Third case: Reproducing data to a COM port
A feature of Serial Port Tester is its ability to reproduce a data transmission to a COM port. To send data to a serial port follow these steps:
Open a current monitoring session or begin a new session.
"Select Session > Reproduce" and make any changes you wish to the parameters used in the data transmission.


Use port - Specify the serial port that will be the recipient of the transmitted data.

Send requests to this port - Enable this option if you want to emulate a data stream being sent from a serial application.

Respond as a device - This option is used to emulate data being sent to a COM port from a serial device.

Preserve time intervals - Use this option to select predetermined time intervals between data transmissions.

Custom IO timeout - Define whatever Read/Write timeout parameters you want to enforce during the session.

Click "Start".