Advanced Serial Port Terminal
This Windows communication application is indispensable for developers and programmers who need to see how serial devices and programs are interacting. Advanced Serial Port Terminal enables data transmission to be logged and saved to files for later study and analysis. Let's take a look at some of the features that make this an efficient and effective solution for working with serial devices and data.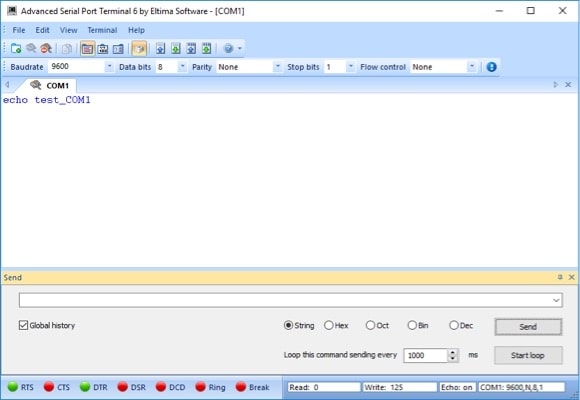 Here is a list of Serial Port Terminal's features:
Port parameters can be changed on-the-fly without having to reopen the interface.
Data can be saved to a file for further use.
You can monitor an unlimited number of COM ports at one time.
You can connect remote computers using the app and a null-modem cable.
Switch viewing modes easily to view data in the best format for your needs.
Configuration parameters can be saved for easy reuse.
Sent and received data can be viewed in the ASCII/ANSI string, binary, octal, and hexadecimal formats.
An Unlimited number of connections to physical and virtual serial ports can be created.
The X-modem files transfer protocol is supported.
ASCII files can be sent to remote computers.
Pros
Multiple devices and serial interfaces can be monitored simultaneously.
Data can be viewed in different formats to allow better analysis.
Product updates and technical support are provided.
Cons
This is commercial software that requires a financial investment.
Installation on your computer is required to use the software.
Serial Port Terminal's advanced features make it a superior solution for users who require a serial terminal emulator. Its selection of viewing options lets you see your data in whichever format you need. Monitoring multiple ports simultaneously makes this tool the best application for any but the most basic serial implementation. The tool is backed by the developers at Electronic Team, Inc. with regular updates to maintain the software's benefits.