Table of contents:
Serial terminal applications allow a user to emulate interacting with a physical RS232 terminal. You can find them under a variety of names such as emulators, TTYs, and RS232 terminal software programs. Traditionally, these types of programs were aimed at emulating a particular type of terminal. Today, most RS232 terminals are more flexible and provide a generalized interface.
These applications are used by individuals who need to facilitate working with serial data. Data transmission between serial apps and devices can be monitored and captured for later use. You can observe the data flow to assist with developing, testing, and debugging serial applications and equipment.
We are going to discuss two terminal programs for Windows to assist in choosing the one that works for you.
What is RealTerm terminal?
The RealTerm terminal program is an emulator application that is popular among serial developers and testers. It can display and save serial data to files in multiple formats. You can view and log data in ANSI, ASCII, binary, integer, hexadecimal, and float formats. Timestamps can be inserted into log files in multiple formats for easier analysis. Easily emulate data transmission to serial devices and applications with RealTerm application using various formats and appending your designated end of line characters. One of the primary uses of this serial port utility is to send data streams that are difficult to manually type in such as those in binary transmission.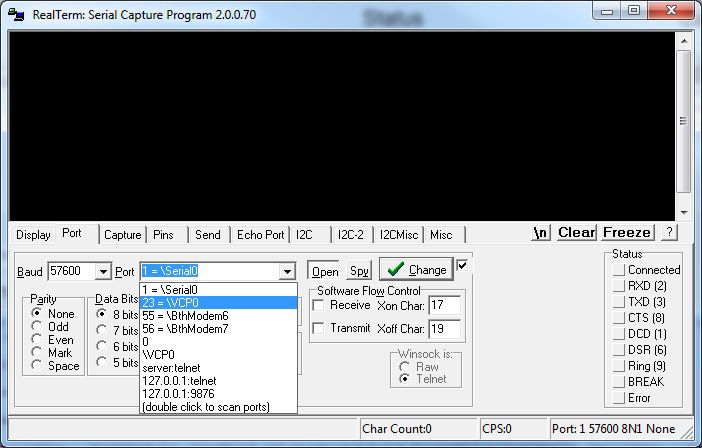 Pros:
Use the tool for sending and visualizing serial data
Can be used to sniff serial ports
Works with the I2C protocol
Cons:
Additional drivers may be needed
RealTerm user interface is cluttered with many options and tabs available in the window. Other RealTerm alternatives offer more streamlined interfaces
RealTerm software offers a viable solution for users working with serial devices and communication. It provides a valuable tool for testing, logging, and debugging serial apps and devices with multiple features and supported data formats.
You may be interested in related articles
Serial Port Terminal - an alternative to RealTerm
Advanced Serial Port Terminal by Electronic Team, Inc. is a Windows terminal alternative that belongs in the software toolkit of any developer or programmer who spends any time working with serial communications, devices, or programs. It offers similar software to RealTerm but includes features not available in most serial terminal applications.
These features include the ability to dynamically change port parameters such as parity, baud rate, and flow control without restarting the interface. You can save and view data in hex mode and switch viewing modes from dump to terminal on the fly. It's a great tool for testing COM ports and the apps and devices connected to them.